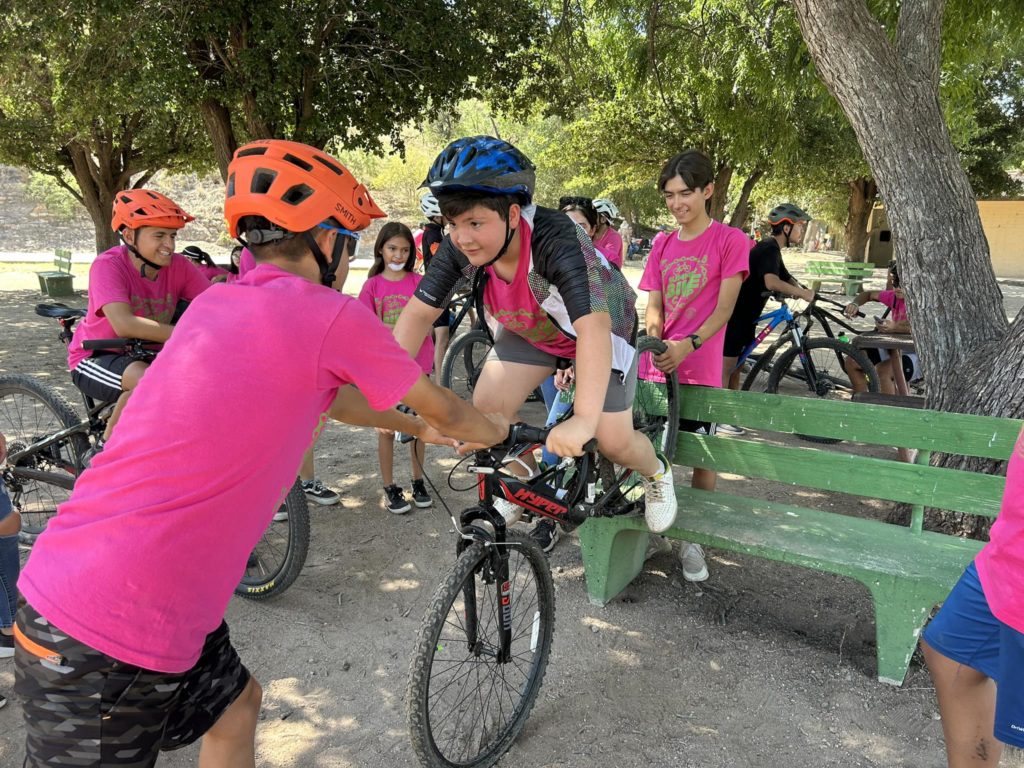 Nogales, Friday, July 30, 2023 – The 0S3 Summer Bike Camp has achieved a remarkable milestone this summer of 2023, welcoming an astounding number of over 100 children to its engaging and educational program. The camp, which spans two weeks, has become a thriving hub for children aged 3 to 18 years, providing a safe, fun, and enriching experience like never before. This record-breaking enrollment is a testament to the program's commitment to fostering a love for cycling while promoting safety, learning, and enjoyment among its young participants.
Simple Objectives: Safety, Learning, and Fun
The guiding principles of the 0S3 Summer Bike Camp remain simple yet profound: ensuring the safety, learning, and enjoyment of every child involved. Throughout the two-week program, children have the opportunity to dive into the world of cycling, exploring essential mechanics for their bicycles and learning how to navigate the streets safely and responsibly. The camp's experienced instructors impart fundamental cycling regulations to equip young cyclists with the knowledge and confidence to traverse the city streets securely.
Empowering Young Cyclists
At the heart of the 0S3 Summer Bike Camp lies a passion for empowering young cyclists. Children are not only taught the mechanics of their bicycles but also encouraged to embrace cycling as an eco-friendly and healthy mode of transportation. The program instills a sense of adventure and freedom, encouraging children to explore their community with newfound confidence and independence.
Support from the Office of the County Superintendent of Schools of Alfredo I. Velasquez
This year's extraordinary enrollment numbers were made possible through the generous support of the summer programs organized by the Office of the County Superintendent of Schools of Alfredo I. Velásquez. Their commitment to promoting education and personal growth among the youth of Nogales has been instrumental in allowing so many children to participate in the 0S3 Summer Bike Camp. This collaboration has proven to be a resounding success, creating a profound impact on the lives of these young participants.
A Bright Future Ahead
The success of the 0S3 Summer Bike Camp in 2023 serves as a glimpse into the bright future ahead for Nogales' and Santa Cruz County young cycling enthusiasts. The program's dedication to providing a safe and enjoyable environment for learning and recreation has won the hearts of parents and children alike. As the summer comes to a close, the memories and skills gained at the camp will undoubtedly remain cherished, inspiring a new generation of responsible and enthusiastic cyclists.
About 0S3:
0S3 is a youth-led movement dedicated to promoting cycling and outdoor activities as a means of fostering physical and mental well-being among the youth of Nogales. Through various initiatives, including the Summer Bike Camp, 0S3 aims to create a positive impact on the community while nurturing a love for cycling and outdoor exploration.
For media inquiries or more information about 0S3 and the Summer Bike Camp, please contact us.